I suspect that our many loyal readers may have noticed that I haven't posted much of anything over the past year. Well, there was a reason for that, and not just because I didn't feel like writing.
Winnie and I were pretty much blocked up with Home Improvement, Part IV – "Remodeling on Steroids" This past year.
It was just about June of 2008 when Winnie decided that we really, really, most seriously needed to tackle another home improvement project. Not content with having rebuilt our house in Mississippi then moving out; not content with renovating the house we're presently living in; Winnie decided we needed to buy a cheap house for an investment property. Even better (according to Winnie), her best friend Mali told her that the house next door to Mali was for sale, another victim of the foreclosure wave hitting our county at the time. The house was, of course, a great deal! According to Mali.
I have to admit I was less than enthusiastic at first thought. Just the thought of playing landlord again was not appealing. I've played that role twice before; been there, done that, got the "T"shirt, moved on. I was also concerned about us buying something that turned out to require more repairs than we anticipated. But, that didn't matter. Winnie wanted to buy another house.
At first look, I wasn't too impressed. The house, built in 1954, can be euphemistically described as a ranch-style house, if a home located out in the ranch lands was actually only 780 square feet. The house was masonry construction, eight inch thick load-bearing masonry walls, which actually did impress me. The house did have a fully finished basement – full of moldy drywall and ceiling tiles, with a large puddle of water in the middle of the floor. The main floor had two small bedrooms and a room best described as a "half" room, with a single bath. There were two basement bedrooms, another full bath, and a nice sized rec room with laundry area.
The kitchen cabinets were stained dark black, and covered with a thick coating of cooking grease. The house was dirty, and every room was painted in custom colors – dark green, light green, purple, red, and blue. None of the appliances worked. The plumbing fixtures were original, and hadn't aged well over the years. The wiring that was in relatively "good condition" was the original. The wiring that had been obviously replaced over the years was a horror. On the bright side, the house had a real wood burning fireplace.
All-in-all, I was a bit nervous about getting involved with this project.
But, once a ball starts rolling downhill, you either get out of the way or get rolled over. At the end of October, 2008, after several months of working with Realtors, Winnie and I found ourselves signing mortgage papers as the proud new owners of a 55 year-old house that in no way, shape or form, could even be considered habitable.
The rest of the year went by in a blur. We had many adventures, of which the stories shall be told at another time. Needless to say, we were busy. We had calculated the expenses of carrying two mortgages while simultaneously buying building materials, so we knew we could cover it. But it was tight, and we both knew the sooner we could get the house rented out the better off we were. I was actually foolish enough, in early September, to think that we could have the house finished by the end of January.
That was pretty funny, actually.
We had the main floor finished by March of 2009, and were able to rent it out to two single ladies by the end of that month. They took the house knowing we would be continuing to work rebuilding the basement. By August we had the basement waterproofed, re-framed, drywalled, and were putting in the finish work. The two single ladies had moved out by the end of July, and a family moved in near the end of August. Again, the family took the house knowing we would not be finished until (hopefully) the end of September.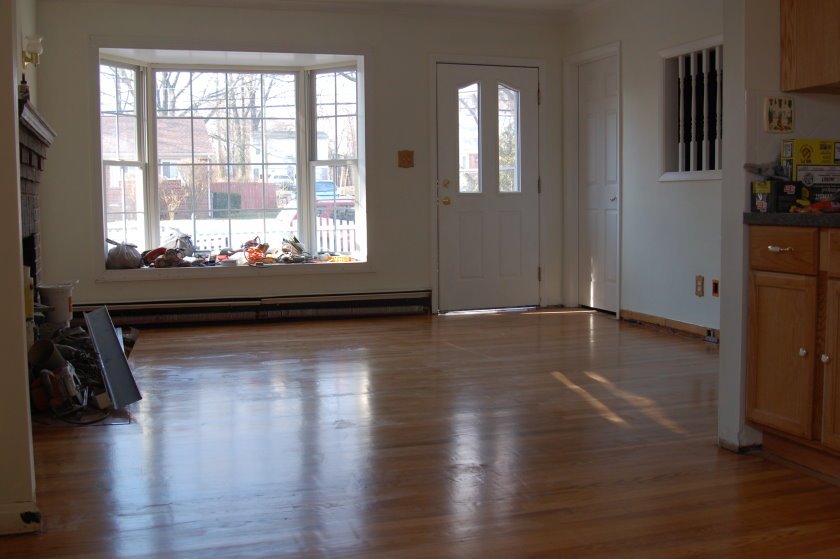 For the several weeks when there were no tenants living there, Winnie and I "camped out" at the house, so we'd have more time to work on it. By the end of September, 2009, we were essentially done. At least, we were as done as any homeowner ever gets.
By the time we were officially finished renovation and had tenants living in this house, we had:
Gutted the basement; removing 780 square feet of moldy drywall, ceiling tile, carpet and tile flooring, and rotten framing
Ripped out all the carpeting on the main floor, along with several layers of floor tiling covering the original red oak flooring
Gutted the existing kitchen down to bare wall studs and sub-flooring
Gutted the upstairs bath, but kept the original blue porcelain cast iron bathtub, sink basin, and blue toilet
Built a completely new kitchen with all new appliances, cabinetry, and custom tile work
Remodeled the upstairs bath with all new tile work
Repainted the entire house
Restored the original red oak flooring on the main floor, which included replacing about 30 square feet of damaged wood
Had a plastic liner with french drains installed in the basement to keep out water intrusion
Completely rebuilt the basement including about 50% new framing, all new drywall, all new ceiling tile, all new ceramic flooring, new trim work, and recessed lighting.
Completely rebuilt the basement bath, including a custom shower stall and all new tile work
Replaced about 70% of all the electrical wiring in the entire house
Replaced about 50% of all the plumbing in the house, including all the original cast iron drain piping (which was eaten through by years of apparent draino usage)
Installed a modern, modular, cable system of TV, computer networking, and telephone wiring
Yes, we were pretty tired by the time we hauled the last of our tools and scrap out of the house. We ended up doing most of the work ourselves. The only major jobs we contracted out were the basement drywall, basement drainage system, and basement ceiling tile.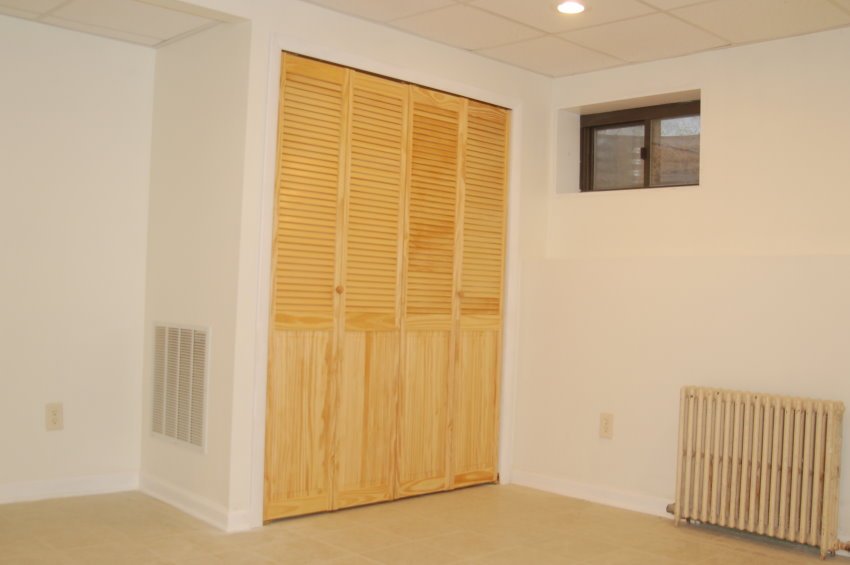 So, now we're the proud owners of a lovely 1954-vintage masonry house, completely renovated and rented out. After one month's rest, I've started getting caught up on the rest of my activities, which includes getting back to writing on this website.
But, we're finished. To our many loyal readers; Please come back. This website has re-opened for business, and I can assure you I have a lot to write about!
Note:  The complete collection of destruction / construction photos can be found in our photo gallery "Remodeling our 1954-Vintage Home."
(Visited 151 times, 1 visits today)