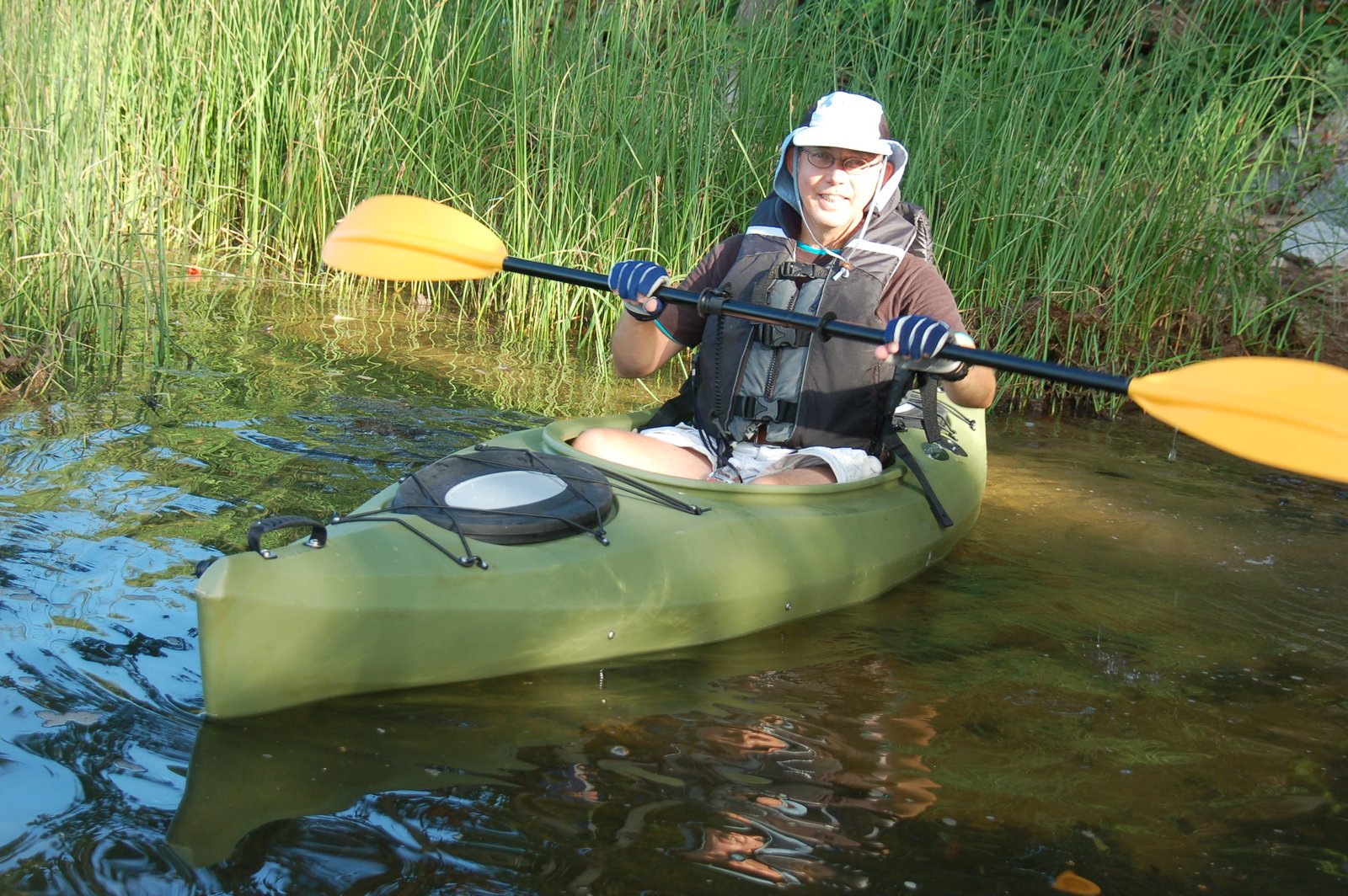 My first kayak was a birthday gift from Winnie in July 2010, a 10-1/2 foot "Trophy 126" deck kayak. From the first time out, I was completely hooked on kayaking as a sport, exercise, and just a pleasant way to spend an afternoon out on the water. In July 2013 I purchased a second kayak; a 12-1/2 foot tandem "Sea Eagle 370" inflatable kayak. I wanted a tandem kayak for Winnie or friends to ride with me, and a kayak that could be transported to distant waters more easily than a hard shell.
In June 2017 I picked up a 2010 "Sea Eagle 330" 10-1/2 foot inflatable kayak hull from a private seller. I wanted the smaller boat for solo kayaking as I found the 370 was just a little difficult to handle by myself, and a little too large/heavy for easy transport. The 370 seats, foot pump, and paddles were all compatible with the 330 and I had an Ikea "Humlare" duffle bag that the smaller boat fit into quite nicely. I plan on using this for my traveling kayak, keeping the 370 for tandem use.
These are photos of my kayaks and some of the beautiful views I've enjoyed while kayaking in different places.
Use the "Slide" link to step through the photos in sequence. Move your cursor over the images to read the description.
This link will take you to a collection of photographs taken on a kayak trip down the Colorado River, starting from just below Hoover Dam, on April 30, 2015.
This link will take you to a collection of photographs taken at Mallows Bay, Maryland side of the Potomac River, and the largest ship graveyard in the western hemisphere. Photos were taken May 20, 2015.
Note: All good boats need a name.
My Future Beach Trophy 126 kayak is named "Arrau." An arrau is a South American river turtle commonly found in the Amazon basin.
My Sea Eagle 370 is named "Nemo." Winnie suggested naming it after a clown fish, and I made the connection between a clown fish and the movie "Finding Nemo. The name just seemed to fit.
My Sea Eagle 330 is named "Lucky." I bought this boat from a private seller who stored it outside in his backyard – inflated – for at least the previous winter. The boat was filthy dirty and the nylon rope rigging was already dry rotted, but it cleaned up nicely. The name "Lucky" just seemed to fit.
(Visited 1,106 times, 1 visits today)