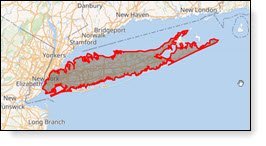 Estimated reading time: 15 minutes
I grew up in Farmingdale, on Long Island, New York, moving away to the Hudson Valley area of Pine Bush at age 15 way back in 1972. Since then, I've made occasional visits to Long Island over the years, but always to visit family still living there. Regrettably, over the years my family ties to Long Island gradually thinned out, and now are non-existent.
However, my heart has always been with Long Island as my childhood home. Over this past Juneteenth weekend, Winnie and I decided to make it a long weekend and pay a visit to Long Island as tourists. It turned out to be a very worthwhile trip.
I took a couple of days vacation time in conjunction with the Juneteenth three-day weekend. Bright and early Thursday morning, June 16, Winnie and I finished loading up the Jeep and headed north. I expected to take I-95 knowing it's the shortest route, even though it's mostly toll roads. But initially, our GPS had us going through Scranton, Pennsylvania, on a ten-hour drive. I checked the settings and discovered the GPS was set to avoid all toll roads, so it was doing exactly what someone (probably me) told it to do. Once adjusted, we headed north on the expected five-hour drive.
Arrival
We had made advance reservations for a modest hotel in Copiague, on the south shore. After arriving at our hotel and resting up, we headed over to the world-famous Jones Beach State Park. I last visited Jones Beach about seven years ago, and Winnie had never been there. We arrived after 6:00PM meaning we didn't have to pay for parking – a nice bonus.
Jones Beach Once
So we parked at lot six and spent a couple of hours walking the beach and playing in the waves. It was a windy day and the surf was up. It didn't take too much to get wet up to our butts, even just walking along the surf line.
Winnie had a blast playing in the surf. We also had a chance to observe some local wildlife.
All-in-all, I thought it was a nice way to start our vacation weekend.
Jones Beach Twice
We packed our Sea Eagle 370 inflatable kayak for this trip, with every intention of paddling salt water. So the next morning we headed back to Jones beach for our first kayaking adventure. First we went back to lot six, again not having to pay parking as it was a weekday and us certified senior citizens are allowed in for free. Once again, Winnie had a blast playing in the surf. She even contacted some of her family back in China on WeChat and did a live streaming of the surf and beach for them.
Kayaking Adventures
The surf was way too high to consider open ocean kayaking, so after playing in the surf we headed over to the inland side of Jones Beach island, ending up at Gilgo Beach. Parking at the bay side was restricted to Babylon Township residents, so we parked on the ocean side parking area of Cedar Beach, and hauled our kayaking gear through the pedestrian tunnel under Ocean Parkway, over to the bay side. There was a nice kayaking launch point at the far end of the marina so we set-up there. Most of the Gilgo beach bayside was an RV camping area and marina.
Once out of the marina we crossed the State Channel and headed into Cedar Island. A natural salt marsh, this is a wildlife sanctuary and a literal maze of watery channels through sandy grasslands. We saw a lot of osprey nests, along with numerous seabirds and other local critters. Winnie captured a wonderful video of two horseshoe crabs playing in shallow water while I kept the kayak steady.
It was a literal maze of narrow channels out there and we actually got lost for a while. One channel we paddled led us us through several twists and turns, gradually getting more narrow, until we were stuck. We had to paddle backwards several hundred feet before getting back to an area we could turn around our twelve foot kayak. We finally found our way back to the State Channel and could see the marina entrance. By now the wind was blowing hard and the water even in the protected bay was kicking up pretty good. Not to mention, one issue with Sea Eagle kayaks is their susceptibility to being blown around.
We made it back, abet tired. Then hauled all our gear back through the tunnel to our Jeep. We spent the rest of the day exploring the neighborhoods around our hotel.
A Hometown Visit
I had several good friends during my Junior High years, and during the one year I spent at Farmingdale High School. Not unsurprisingly, I lost touch with them after moving away for my final two years of High School in Pine Bush, New York. However, several years ago through the magic of social media I reconnected with my best friend of those Farmingdale school years, Paul. It turned out he was still in Farmingdale, literally living in the same house he grew up in.
When Winnie and I made plans to spend some time on Long Island, I contacted Paul and arranged to meet for lunch. This also made for a chance to visit Farmingdale, and visit the cemeteries to pay respect to my departed family.
Paying Respects
Saturday morning I headed over to Pinelawn Memorial Park to visit the gravesite of my maternal grandparents. It had been at least seven years since my last visit, and I discovered some of the landmarks I used to use to find the gravesite no longer applied. I had to use the cemetery locator service, which is actually a website. But, I found their gravesite.
I also attempted to locate another gravesite , that of my Godmother, buried in Long Island National Cemetery next door to Pinelawn. The locator service for this cemetery was a computerized touch-screen kiosk supplying a printout. But, despite this level of technology, I was unable to locate her gravesite. As the office was closed, I made a mental promise to try again one a future weekday.
A Farmingdale Visit
I went back to the hotel to pick-up Winnie, and we headed over to Farmingdale. It was only a few minutes drive, but took me back fifty years in the past. As much as the town I grew up in is imprinted on me like a baby duck to it's mother, fifty years is a long time. Things change.
At least, Farmingdale appears to have changed mostly for the better over the years. Once in town, I drove around showing Winnie some of my childhood landmarks, including the house I grew up in. The old neighborhoods looked beautiful. Houses were almost all well-cared for and showed off modern upgrades like aluminum siding and new windows. Many had beautiful, professional, front yard landscaping. These homes did not look like they were part of seventy-year-old neighborhoods.
I found parking in the Village of Farmingdale and walked around a little, pointing out other childhood landmarks to Winnie. Then we made our way to the restaurant Paul and I had agreed on, the Library Cafe. This had an especially soft spot in my heart, as it was one of the two libraries in Farmingdale when I lived there. Although the smaller of the two libraries, I spent many Saturdays tucked away in one of the loft galleries lost in a book. The library closed sometime in the 1980s and the building was repurposed into a cafe serving food and drinks.
Fifty-Year Reunion
Winnie and I found a booth, and Paul met us a few minutes later. After introducing Paul and Winnie we settled in and ordered lunch. Paul and I had fifty-years of catching up to do and only about one hour to do it in. So, as New Yorkers do, we talked fast. Winnie tried keeping up for a bit, but then just focused on her food and watching YouTube videos on her iPhone.
We finished and Winnie took the mandatory photos outside the cafe. Paul promised to let me know the next time he was down in the Washington, D.C. area (he frequently traveled there on business), and we were gone.
Port Jefferson Kayaking
The day was still young and I wanted to show Winnie a little of the Long Island North Shore. In truth, when I was living in Farmingdale I don't remember ever going up to the North Shore. No real reason, other than all the beaches we frequented as Farmingdale residents were on South Shore. Given that Long Island is only about 20 miles wide, heading up to North Shore wasn't a big trip.
We ended up in Port Jefferson, then wandered around until we found a small bay frequented as a boat anchorage site. Then Winnie surprised me by suggesting we setup the kayak and paddle the bay. (I was keeping all kayak gear in the Jeep, on reason it was too much trouble to haul it in and out of our second floor hotel room.) So, we setup the kayak, donned our PFDPFDPersonal Flotation Device. AKA: Life Jacketss and went paddling around the bay. The wind was still gusting pretty hard, but the bay was sheltered enough that we were ok.
The landscape wasn't much, but we did see a lot of geese, which Winnie really enjoyed. Once finished paddling, we called it a day and headed back to our hotel.
Pilgrimage to East Moriches
Some of my happiest childhood memories were of my maternal grandfather taking me (and my brother or sister) fishing out in East Moriches bay. He'd pick us up early on a Saturday morning, and drive for what seemed like forever 'way out on the Island.' Back in those days we'd pass miles of duck farms and finally arrive at a fishing station right on the water's edge.
My grandfather owned a small outboard motor ( I think a Johnson Seahorse 2-stroke) that he could carry over his shoulder. He'd rent a wooden fishing boat at the station, hook up his motor, and we'd head out for a day of fluke fishing. We always caught lots of fish, along with collecting shells and starfish. Sometimes we caught sand crabs, and I remember being bit by one when I stuck my finger too close to it's claw.
Those trips were real adventures for me.
As best as I can remember, the last time we went out there was the summer before my grandmother died, which would have been the summer of 1966.
A Trip Back in Time
I've been wanting to go back out to East Moriches for many years, and this trip was, finally, my chance. The fishing station my grandfather used to take us to, Silly Lily, is still there and still very much in business renting boats. We still had our kayak, so didn't plan on renting a boat. But I did plan on getting out on the water.
Winnie and I arrived reasonably early, and the station was crowded with people renting boats for the day. We saw there was a small boat launch on the facility, and decided to take a neighborhood walk while the crowd thinned out.
We spent about an hour walking around. The area looked much more built-up than I remembered it; a not surprising change after fifty-six years. The neighborhoods had that charming "beach shanty" look that I've always enjoyed. Many of the homes were quirky designs decorated with obvious beach things. Once walked out, we returned to Silly Lily.
I briefly chatted with one of the owners, an elderly lady who explained they had been in business since 1934. I mentioned my trips with my grandfather in the 1960s, and she smiled and said they heard a lot of stories like mine. Then I paid the nominal launch fee, Winnie and I set up the kayak, and we paddled off into the bay.
Kayaking in East Moriches
The wind was still blowing hard, kicking up decent-sized waves in the protected bay. So Winnie I paddled along the shoreline and explored what we could. I was hoping to get across the bay to a sandy beach, where we might find some clams. But, the wind was gusting too hard and neither of us wanted to dump the kayak. After some paddling we tied up in a protected cove for lunch. Then we did some more paddling, and decided we'd best pull back in.
I didn't get a chance to do any fishing, but did promise myself I'd be back again to catch some fluke.
The Big Duck
There was one more place I wanted to visit while we were out in the area. This would be the national landmark and self-proclaimed world famous "Big Duck" tourist stop in Flanders, Long Island, New York. It was only about twenty minutes from Silly Lily, so we made the quick drive over.
Winnie was impressed. But she was more impressed with spotting some wild turkeys across a field behind the tourist stop. She spent several minutes chasing the turkeys with her iPhone camera, then we headed for the hotel. As a final treat that evening, I was able to score a genuine New York style pizza. My final treat for our last evening on Long Island.
Jones Beach Three Times
We woke up very early the next morning, packed up our stuff, and decided to head over to Jones Beach one last time. We arrived back on lot six just at sunrise, and had a chance to enjoy a final few minutes of morning surf. Then it was back on the road and heading for home on I-95.
We made the five-hour trip home without any adventures, and settled back into our home life routine.
Related Posts
(Visited 35 times, 1 visits today)