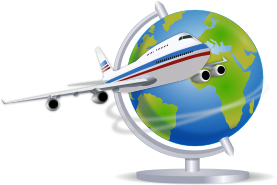 We'll be leaving this evening for our vacation trip to England and France. We're as ready as we're going to get, and that's all there is!
We purchased train passes for Eurail France and Britrail (British equivalent of the Eurail) so we are better able to get around the countryside and explore. We also purchased some city metro passes for both London and Paris. These passes are supposed to allow us unlimited use of the city subways and buses for a given number of days. The passes also include discount coupons for major city attractions.
We still don't have firm plans for the entire two weeks. So far, we'll start out in London and then head to Cardiff for a few days. We have made reservations at a really nice hotel in Paris for the last two nights we plan on being there (cashed in a bunch of Hilton Honors frequent guest points). This pretty much leaves five days in the middle of our trip open for us to wander at will. Which is the kind of traveling I really enjoy.
I'm not bringing a laptop for the sole reason that I don't care to pack one around the countryside for two weeks. If I get access to a cybercafe (do they still exist?) I'll post some stories of our adventures. Otherwise, my many loyal readers (more than three) will have to wait until my return and I post a travelogue. I do plan on getting lots of pictures and will be updating the photo albums appropriately.
See y'all when I get back.
(Visited 67 times, 1 visits today)