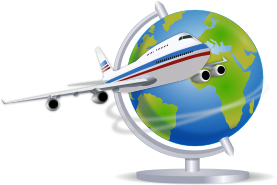 Winnie finally returned from China on Saturday evening, just in time for me to leave for Las Vegas on Sunday evening. It seems we can't seem to get our schedules aligned.
Winnie had originally planned on returning Friday April 10, for a three week trip. However, by March 30 her mother was still extremely sick and it didn't look like she would recover. Winnie contacted me and asked that I change her flight reservations so she could stay an additional two weeks. All flights back from China were already sold out for Friday April 23, so by default her flight home was set for Saturday.
Meanwhile, I had already made reservations for a trip to Las Vegas, Nevada, to attend the seventh annual ship's reunion of the fighting submarine USS Scamp (SSN 588), the first submarine I served on from 1975 to 1980. The reunion was scheduled for April 27 thru 30, and I found a cheap red-eye special out to Vegas leaving Sunday evening April 26.
Originally, Winnie was going to come with me and we even planned to make the reunion trip part of a two week vacation. Then her dad passed and mother became sick so we had to scrap those vacation plans. This was going to be the first ship's reunion I'd ever been to and really wanted to meet up with my old shipmates again, and Winnie didn't seem to mind letting me spend a week in "Sin City" on my own. Maybe she figured I was too old to get into any real trouble…?
Winnie's mother did recover and returned back home the week of April 13, which was very good news for all of us. Winnie left her home town Thursday for Nanning, the location of the nearest airport and start of her trip home. Her return trip was not without excitement though. It seems that the airline from Nanning expected her ticket and passport to have matching names, but her ticket did not include her full middle name. Winnie had to fight with the airline check-in agent to get on the plane, and until she arrived in Beijing for her connecting flight wasn't sure if she would be allowed to fly the rest of the way. It turned out the lack of her middle name on her ticket was not an issue for an international flight. Go Figure. I did pick her up in Dulles as planned, and we had one short night and a little time Sunday morning together before my flight out.
So today I'm posting this entry from the Sam's Town Hotel and Gambling Hall in sunny Las Vegas. I've already made my first run to the Hospitality Suite and met up with some of my old shipmates, and have several more days of parties and events planned out.
Winnie is back to work today, as tired and jet-lagged as she is. I feel bad I wasn't able to get her out to Las Vegas, as I think everyone needs to experience this city at least once in their lifetime. I've been here three times before but my last trip was in 1989 and thing's have definitely changed since then. I do hope I'll be able to get Winnie out sometime in the future.
So Winnie is home and I'm back on the road. I'll have a lot more to write about when I return!
Updated: April 28, 2015
(Visited 182 times, 1 visits today)