So today is day 30 since I've been staying at home due to this coronavirus pandemic. While I'm not missing my weekday commuting up to Washington, D.C. I am getting restless. I'm not used to being restricted to staying inside my house for days on end. Especially now as we're coming into spring weather and the best time to be getting outside for some kayaking, hiking, or just hanging out enjoying the fresh air.
It seems that right now, we have to suspect even fresh air as not being a good thing.
My Old Daily Commute
For the past year I've had a particularly miserable weekday commute. My normal workday starts at 5:00 AM, and I'm normally out of the house by 5:40. I drive to the local commuter lot about 8 miles away and then do some "slugging;" I get into a line and hop into some stranger's car for a ride to a predetermined drop-off point in DC.
SluggingYes, organized hitchhiking for commuting is a thing here in the greater Washington DC metro area. Thousands of people use slugging to get to work every day in this area. It works because so many people go into DC in the mornings, then back out again in the evenings, all moving in generally the same directions.
Once I get dropped off, at a location called "L'Enfant Plaza," I wait to catch a free shuttle bus to the office location. For this past year I've been working for the U.S. Coast Guard in their headquarters, which is part of the Department of Homeland Security.
This is a relatively new location and very much out-of-the way from the DC area. So the Coast guard runs shuttle buses from L'Enfant Plaza to their location, free to folks working there. It's nice, but adds commuting time waiting for the next shuttle, then an additional 20 minutes run.
In the evenings, I got to do that all over again in reverse. Catch the shuttle bus from Coast Guard Headquarters, then wait in the L'Enfant Plaza slugline for a ride back to the commuter lot. Then, from the commuter lot drive back home, often making some stops along the way.
The New Normal
In the old normal, I'd spend three hours a day commuting. On a bad day, of which there are many in this part of the driving world, I could spend four hours or more. That adds up in wear and tear on my body, and a real time trap.
My work-at-home started on Friday March 13 when my firm did a test run" of almost everyone in the firm working from home, to see if our networks could support it. They could, so starting on Monday my firm arranged for people to work from home based on a priority basis. I got priority one due to my age (over 60) which puts me in a high risk category. Lucky me.
Government offices did not shut down for all non-critical workers until the following Friday, March 20. Everyone in my office was deemed "non-critical" and sent to work from home. Government networks weren't as robust as my firms, so until my contract ended on March 31 I had limited ability to connect to anything government.
Once my contract ended it didn't make much difference where I was, as I didn't have anything useful to do anyway. Since April 1 I've been looking for new assignments within my firm, and at the same time, looking for a new job if I can't find a new assignment.
Too Much Time On My Hands
Since working from home back on March 13 I gained a minimum of three extra hours every weekday. My biggest challenge was finding something to do with that extra time. Now that I'm out of billable work, I have even more free time. Not that I'm complaining. Just adjusting. I'm expecting to be working out of the house for at least another two weeks, probably longer.
Meanwhile, Winnie has heard from her family back in China on how they handled their shut-down time and has taken their lessons to heart. She is serious about keeping us safe from this virus. Just for starters, if either of us even step foot outside the house we're wearing masks.
I've had to run errands away from the house several times these past 30 days, and when I do I'm wearing a medical mask and rubber gloves. Winnie has created headgear out of clear plastic (which used to be the toiletries bags in our luggage) that she now has us wear in addition to masks and gloves.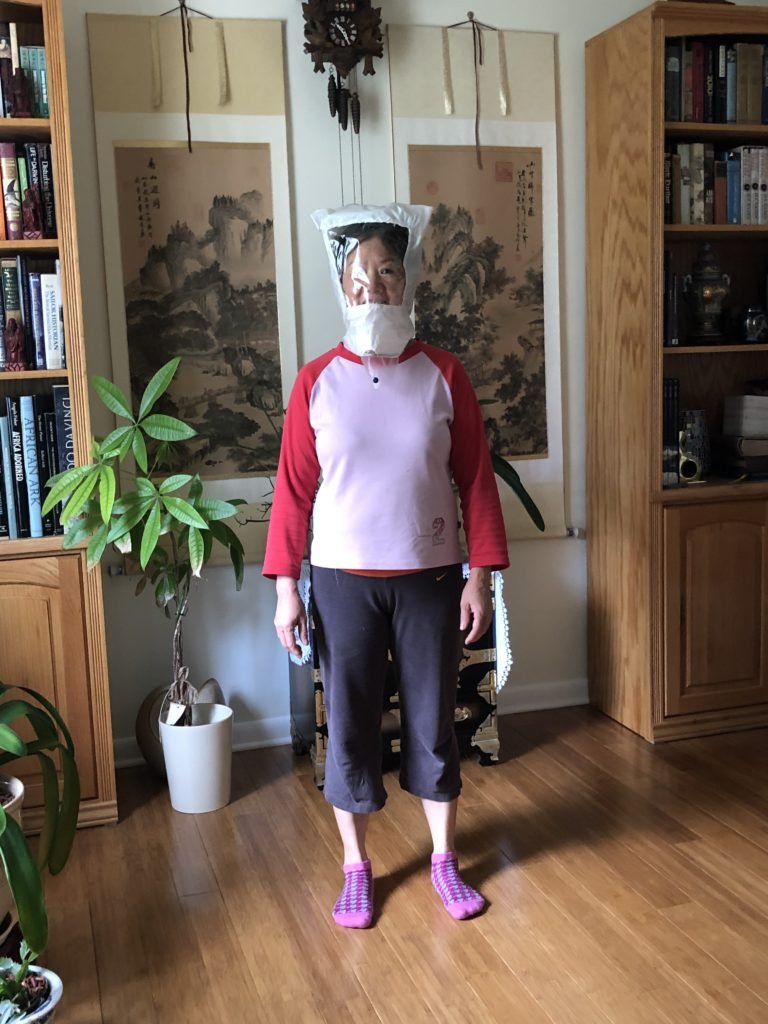 Winnie wearing her custom-designed Hazmat hood…
…and me wearing my Hazmat hood that Winnie custom-designed.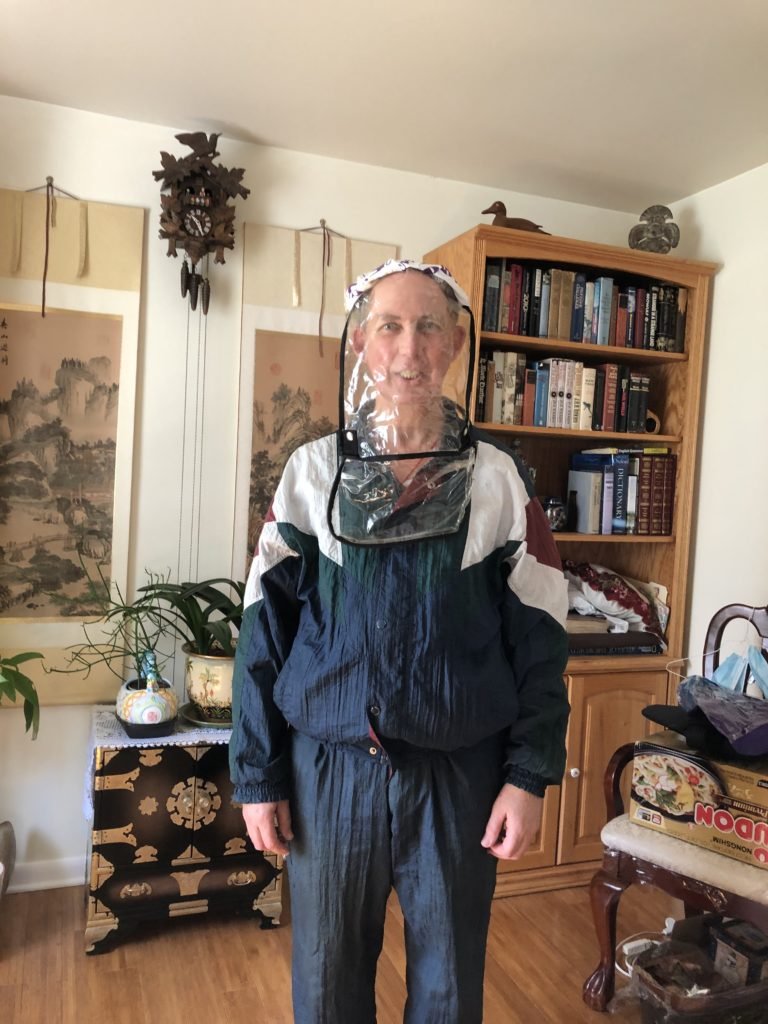 It's the latest Pandemic fashion look. People don't even look twice at us walking around in public.
What Happens Next?
So what happens next? When does this stay-at-home end? But a bigger question; do I really want to go back to spending three hours per day or more commuting back and forth between an office and home?
I don't think so.
What about all the people who are able to work from home, and over these past weeks proved they can. Successfully. Do they look forward to driving hours each day just to get to work? Or will they push for more work-at-home time?
I've been reading a lot about what this pandemic, and the world's reaction to it, have revealed about us. What this sudden shutdown across the globe reveals about the societies we've developed, without recognizing what we created. About how we've been given pause to stop and think for just a short while. How we should look around, and recognize how quickly the world has changed. Empty freeways that are normally bumper-to-bumper cars filled with people in a mad rush to get somewhere else. Clear skies offering visages we hardly ever see anymore. Wildlife creeping out of hiding places and wandering around.
Prepare for the Ultimate Gaslighting
We've collectively been given a chance to stop, take a deep breath of non-virus infected air, and think about what is really important. I think this article in Medium says it best.
From one citizen to another, I beg of you: Take a deep breath, ignore the deafening noise, and think deeply about what you want to put back into your life. This is our chance to define a new version of normal, a rare and truly sacred (yes, sacred) opportunity to get rid of the bullshit and to only bring back what works for us, what makes our lives richer, what makes our kids happier, what makes us truly proud. We get to Marie Kondo the shit out of it all. We care deeply about one another. That is clear. That can be seen in every supportive Facebook post, in every meal dropped off for a neighbor, in every Zoom birthday party. We are a good people. And as a good people, we want to define — on our own terms — what this country looks like in five, 10, 50 years. This is our chance to do that, the biggest one we have ever gotten. And the best one we'll ever get.

We can do that on a personal scale in our homes, in how we choose to spend our family time on nights and weekends, what we watch, what we listen to, what we eat, and what we choose to spend our dollars on and where. We can do it locally in our communities, in what organizations we support, what truths we tell, and what events we attend. And we can do it nationally in our government, in which leaders we vote in and to whom we give power. If we want cleaner air, we can make it happen. If we want to protect our doctors and nurses from the next virus — and protect all Americans — we can make it happen. If we want our neighbors and friends to earn a dignified income, we can make that happen. If we want millions of kids to be able to eat if suddenly their school is closed, we can make that happen. And, yes, if we just want to live a simpler life, we can make that happen, too. But only if we resist the massive gaslighting that is about to come. It's on its way. Look out.

Julio Vincent Gambuto. Prepare for the Ultimate Gaslighting. Medium.com – Forge. April 9, 2020
(Visited 260 times, 1 visits today)