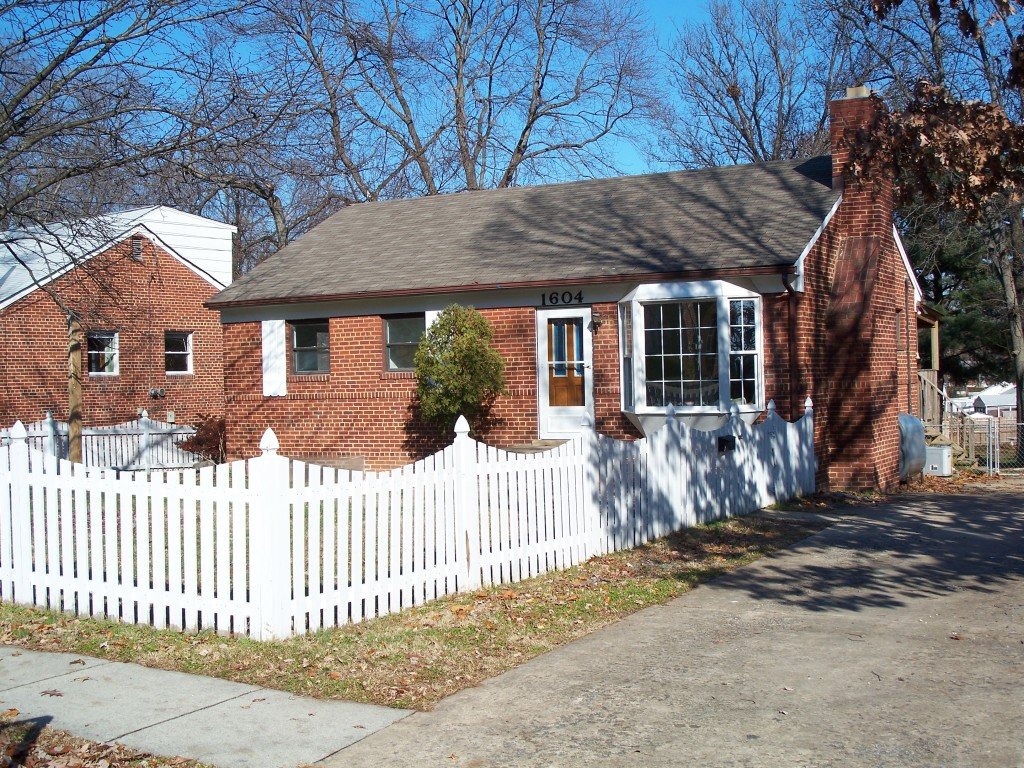 In 2008 Winnie and I purchased a second house as investment property. We had settled into our new community of Woodbridge, Virginia, and purchased a home to live in the year prior.
Through a friend, Winnie learned of a house for sale "at a good price." This turned out to be true. The house, a 1954-vintage masonry-construction house was for sale at an amazingly low price – because it was a total fixer-upper.
So we bought it. This is our old house home improvement story.
The Start
The year 2008 was a bad year for most of America. The Masters of the Universe had brought the global economy within days of a total financial meltdown. Our supine then-President Bush Jr and our spineless Congress were falling over backwards handing out money to keep already-rich people from facing any accountability over their massive failures. Meanwhile, here on Main Street USA the prices of homes had collapsed as people lost their jobs and were foreclosed on their already too-high mortgages.
We had bought our home the previous February and were mostly settled in after moving up from my post-Navy retirement location of Gautier, Mississippi, in September 2006. I was working in Washington, D.C. and Winnie was working at a department store in a nearby mall. One fateful night in the summer of 2008, Winnie came home and announced she wanted to buy another house.
"What's wrong with this house?" I asked, innocently.
"I want to buy another house to rent out. My friend Mali knows a good house listed cheap. She says it's a great investment" Winnie explained.
I immediately sensed we were going to be future proud new owners of a second property.
Home Buying in a Financial Meltdown
A couple of days later we met a realtor and Winnie's friend Mali at this house for sale. Mali lived across town from us in a neighborhood developed back in the early 1950s – 1960s. The street Mali lived on was nice, a thru-street off a busy main road, but I saw issues. Seemingly half of the homes on that street were empty, lonely "For Sale" signs posted on the lawn.
The house Mali told us about was nearly identical to every other house on the street – a brick one-level house built in 1954, about 750 square feet in size on a one-quarter acre lot. The backyard was surrounded by a four-foot high chain link fence and included a single-car-sized metal garage. The front yard was defined by a white picket fence with a large, mature cherry tree.
The Realtor, Chris, explained that the house was a foreclosure and he was representing the bank. Chris didn't know anything about the history of the house other than the previous owner had foreclosed, one of many over the past several months. He explained the bank was interested in getting the house off their books and would "probably" entertain any reasonable price. Then we went in.
We entered the house greeted by the smell of mold.
The Walkthrough
We looked around the main floor. The house was obviously worn, dirty, and generally in bad shape. There was glue-down carpet squares on the living room floor, some tacky-looking linoleum in the dining room and kitchen. Although the kitchen appliances appeared new, the kitchen cabinets were black, seemingly dating back to the 1980s. Everything in the kitchen was coated with heavy grease. On a bright note, there was a real brick wood-burning fireplace in the living room and a huge, lovely, bay window looking out onto the front yard.
The living room glue-down carpet ended at the hallway, and I could see the original strip oak flooring badly needed refinishing. There were two bedrooms and a bathroom along the hallway, and a tiny room that looked like it may have been a bedroom once. The walls of this room were lined with wire shelving and clothes-hanging rods making it a walk-in closet with a window. The bathroom was blue and white tile with baby-blue colored fixtures – a popular style in the 1950s. The bathroom floor tile was cracked in a few places and the bathroom window was rusted and blocked on the outside with plywood. The sink cabinet was half-rotted away. The bathroom was dirty and smelled bad.
The flooring in one bedroom was painted red. There was a doorway-sized hole cut between the two bedrooms through one closet. The rooms on this floor were painted various combinations of green, blue, and red.
We went out the back door and I discovered why the bathroom window was blocked; some previous owner had tacked an "enclosed porch" onto the back of the house, which covered the bathroom window. We went back inside and I figured out the tiny "half-room;" a previous owner had built an inside staircase leading to the downstairs. They took away space from that bedroom for the stairs.
As we walked downstairs I identified where the moldy smell was coming from. The basement was fully finished and had running black mold on all the drywall and drop-ceiling tiles. The walls, under the running black mold, were painted a fabulous shade of pink. There were standing pools of water on top of a soggy, carpeted floor. The downstairs had two bedrooms, a tiny bath, and common area complete with laundry and oil burner. This bath's sink cabinet was also rotting away, and the bathroom was filthy.
There was an outside door with another staircase leading up to ground level. The oil burner was in a sort-of closet in one corner, and a clothes washer and dryer in another corner. Part of the common area had been subdivided into two rooms and the dividing wall 2×4 framing was nailed on top of the soggy carpeting.
Overall, I wasn't impressed. Winnie loved it.
The Purchase
Chris explained that since he was representing the owner (bank) he didn't feel right also representing us, even though he could legally represent both parties under Virginia law. So he put us into contact with a friend of his, Jorge. Jorge would come to know us well over the next couple of months it took to close.
Jorge took us around that general area showing us several more houses so we'd have some comparisons. Everything we looked at was in similar, or worse, condition than the first house. These houses were all foreclosures, and it was pretty obvious owners didn't take kindly to being foreclosed. I had bought four houses in three states at that point, but I had never seen homes for sale in such pitiful condition. Until then, I couldn't imagine any realtor even showing homes that were in such disrepair.
After looking around, Winnie and I agreed to purchase the first house we looked at as investment property. Winnie decided on a price so low I almost gagged. Jorge just wrote it up and submitted it. He got in touch with us a couple of days later and explained "the bank would not accept that offer. However, they want to sell, and I know in my heart they would accept [still amazingly low price]." Winnie was not happy, but I convinced her, if she really wanted the house, to make the offer Jorge "felt in his heart." After some more grumbling from Winnie we did counteroffer, which was accepted.
The Long Closing
We needed to finance, and the purchase price was so low I knew we wouldn't have a problem qualifying for a loan. However, due to the running mold the house was deemed "not habitable," and no bank would give us a mortgage. After consulting with Jorge we determined the solution was to hire a work crew and trash truck, and I spent quality time on a Saturday gutting out the basement down to 2×4 framing and bare concrete. At our expense. After gutting, Winnie and I treated all framing and exposed basement walls with a mold-killing solution as we had done several years previous in Mississippi after Hurricane Katrina. Then we hired a mold remediation company to do an inspection. We passed, and sent the inspection report to the bank via Jorge.
The bank "officially" didn't know we were doing any of this.
The work took several weeks, and the house was vacant all that time. When we gutted the basement we saw how much copper piping this old house had. Apparently, other people took note as well. One day Winnie came over to the house to do some cleaning and discovered a pool of water on the basement floor where we hadn't previously see water. When I came over I discovered that someone had cut out and stollen a large amount of copper piping. I suspect it was the wrecking crew I had hired but of course could not prove that.
Winnie and I were upset, but, we couldn't even file a police report as we didn't own the house yet. With the mold remediation work we had done, we had too much invested to back out. So a week later, in early October 2008, we finally closed on a small fifty-four year-old brick house in ragged condition with a gutted, wet basement and missing plumbing. Winnie was excited.
(Visited 200 times, 1 visits today)