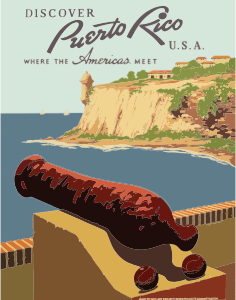 Winnie and I decided we needed to do something different for Christmas this year. Our Christmases past have normally revolved around either staying at home in quiet celebration, or visiting family. This year, we gave each other a Christmas vacation trip to Puerto Rico.
Traveling at this time of year has typically been difficult for us as Winnie worked many years in retail. More recently she was working as a Personal Care Assistant (PCA), and neither job offered much chance for a holiday season vacation. This year, she took a leave of absence from PCA in early October, and didn't see herself getting a new assignment until after the holidays at the earliest. So in early November we made plane and hotel reservations for a four night stay in old town San Juan, Puerto Rico.
I found a decent hotel right in the middle of old town San Juan named "Da House," which had decent reviews and affordable prices. I quickly learned that Christmas in Puerto Rico was peak tourist season and pricing reflected this. Winnie did some research on flights, and found us non-stop red-eye specials from Dulles International. Our schedule had us leaving Monday December 19 at about 10:00PM, arriving Tuesday December 20 at about 3:20AM. We'd leave Saturday December 24 – at about 3:00AM and land back in Dulles at 6:20PM.
It was a way to get there and back, and reasonable rates.
Beyond these basics, we didn't make any plans as we (I) prefer to take things as they come when traveling. That usually works out ok.
Arriving in San Juan, Puerto Rico
So Monday December 19 I did a day's work at the office, came home, loaded up the car and we headed to Dulles Airport. We lucked out  with non-flight-canceling weather and our plane took off as scheduled. Winnie can literally sleep anywhere, anytime; but I cannot. So she slept well on our fight while I alternately dozed and stared out the plane's window. We landed right on schedule, got our checked bag, and caught a taxi to our hotel. I had called the previous day to confirm that the front desk was a 24/7 operation, so we had no problem getting registered and to our room. Where-upon we got to bed at about 5:00AM.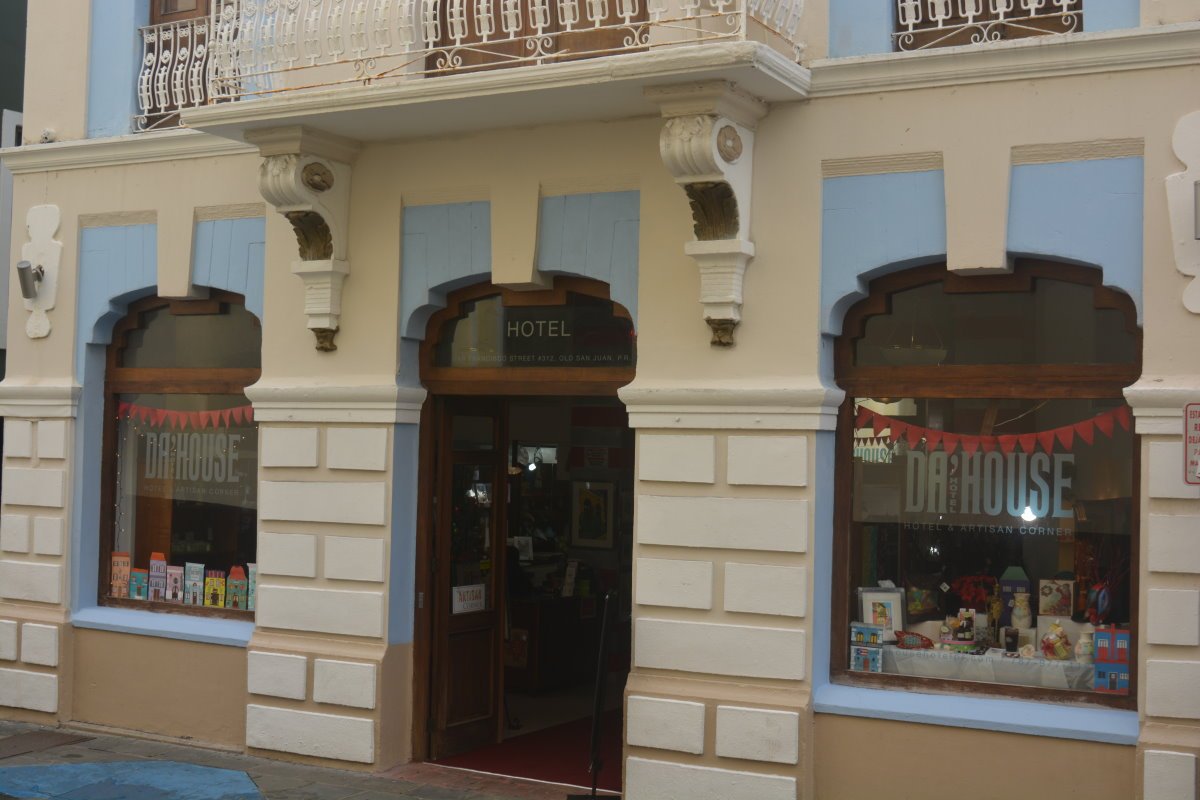 We (I) dragged ourselves out of bed a few hours later, washed up, and went exploring in search of food and adventure. The front desk manager had given us a tourist map of the old town area when we checked in, and we saw we were literally in the heart of everything old town San Juan. We found a restaurant a few blocks from our hotel and had brunch at a lovely restaurant, then headed back out to explore.
Castillo de San Cristobel and Castillo San Felipe del Morro
We were right next to the Castillo de San Cristobel (San Cristobel Castle) National Historic Site, which loomed over that entire part of old town. So we headed there next. We ended up spending the day exploring first the San Cristobel Castle, then Castillo San Felipe del Morro (San Filipe del Morro Castle) at the opposite end of old town, and everything in between.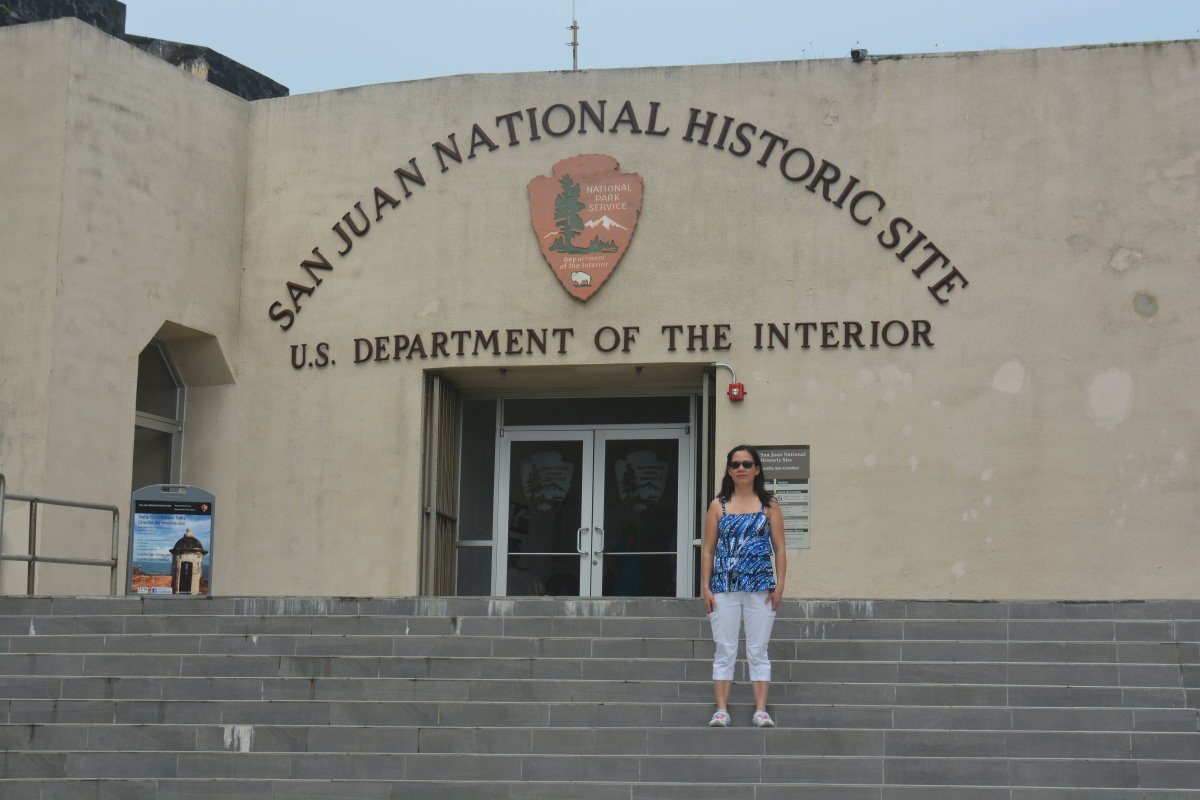 This fortress system is incredible, easily surpassing every fortress complex I've seen anywhere else including in Europe. Between Tuesday afternoon and Wednesday morning, we walked around the entire structure. I was a picture-taking fool of course, and Winnie was seriously enjoying herself as well. Once we wore ourselves out walking and taking photos, we found a small restaurant and had dinner. I investigated the local Rum Punch, and determined that what the Puerto Rican version of this drink lacked in the variety of fruit juices was more than compensated for by the amount of rum it included.
Beach Day
Wednesday we hit the local beaches. Boca de Cangrejos Beach (offering rest rooms and life guards) was about a 30 minute walk from our hotel. I had really wanted to do some bicycling on our vacation trip, but lack of planning caught up with me. Tuesday evening I had called a local bicycle rental outfit that delivered bicycles, and discovered they didn't have much in the way of not-reserved bicycles. Winnie has short legs and needs a small bike. This was peak tourist season for Puerto Rico. They did have a couple of bikes available on short notice, and met us Wednesday morning on a no-commitment basis to see if the bikes would work for us. Unfortunately they didn't have anything that worked for Winnie.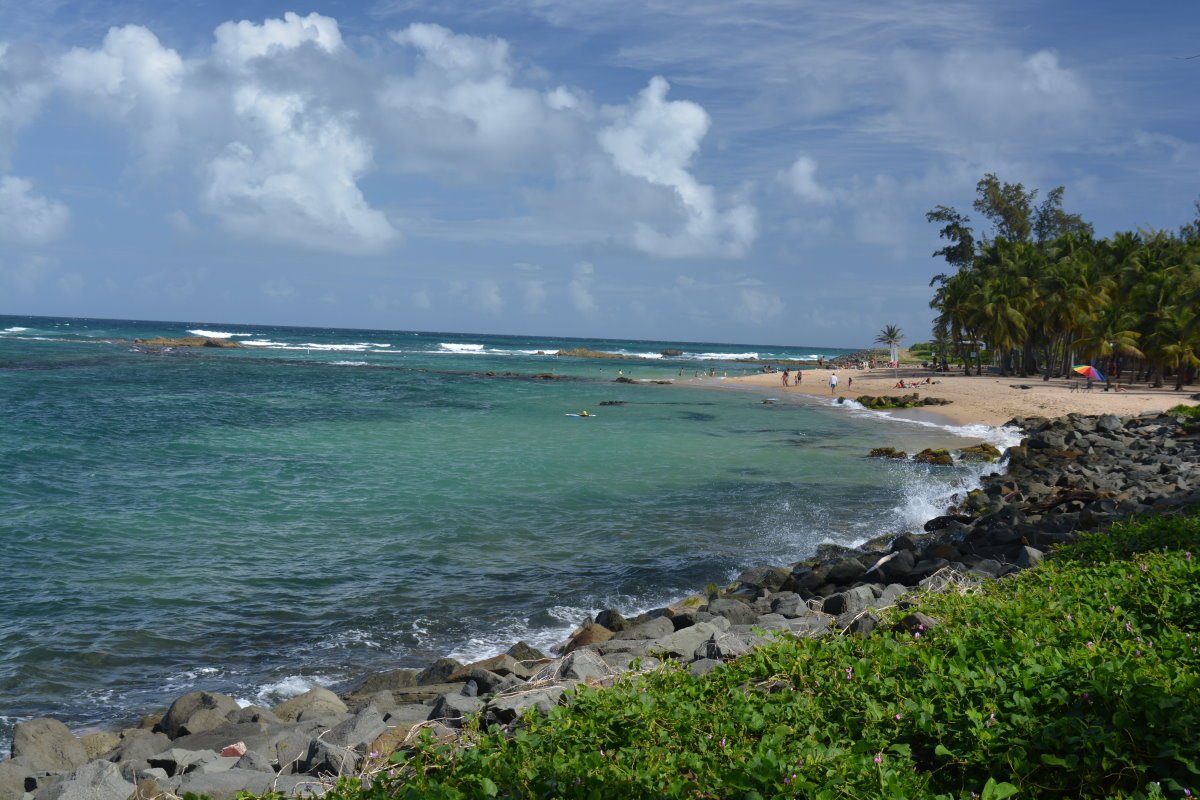 So we walked to the beach. My excellent sense of direction took us the wrong way and turned a 30 minute walk into three hours. On the flip side, we saw a lot more of the old town area and Castillo de San Cristobel. Winnie wasn't too pissed… We finally found the beach and spent the next several hours in the water and laying out in sunny 80+ degree weather.
We caught lunch at a local hamburger place that was an adventure all in itself, and back to the beach for a few more hours. Then back to the hotel to clean up. We tried to reserve a rental car for the next two days but I quickly learned that every rental car on the island was already booked, on account that this was peak tourist season for Puerto Rico. So we made reservations for an eight-hour tour of El Yunque National Forest and Luquillo Beach for the next day through "E&B Tours." Then we found a local supermarket and Winnie stocked up on fruit and healthy snack foods for us. We bought take-out and had dinner on the fourth-floor rooftop terrace of our hotel, enjoying the night breezes and views of old town.
El Yunque National Park and Luquillo Beach
Thursday morning our tour guide picked us up nearby our hotel precisely at the agreed-upon 9:00AM time. Our vehicle was a one-ton van holding a max 14 people, and we ended up with 12 and our driver/tour guide. Once we had all fellow adventurers on board we barreled on down to El Yunque National Park rain forest.
El Yunque is the only tropical rain forest in the US National park system, and a relatively new acquisition to the National Park system. We started at the visitor center, where our guide told us to check out the center and come back to the van.
After the visitor center, we drove up to the top of the mountain, turned around, and came back to the trail head for La Mina falls. Our driver/guide let us out and pointed up the trail, explaining the falls and wading pools were a 20 minute hike up. So our group headed up and did find a beautiful small falls with wading pools at two levels of the falls. 
Our group hung out for a while, taking pictures of the falls and each other, while trying not to fall on the muddy trails and rocky wading pools. We finally made it back to the van, wet and charged up from the experience. Our guide then brought us to Yokahu Observation Tower for a visit and more pics. After we had our fill here we pulled into a local roadside "restaurant" and souvenir shop. I had a local Puerto Rican dish of rice with chicken and beans, pretty tasty, while Winnie had a tamale-looking Puerto Rican specialty. After our lunch break we continued heading back down and stopped at La Coca Falls for more photos. This falls was right along the road so we didn't need any hiking, just fighting other tourists for photos on the rocks of the falls.
After La Coca falls we headed down to Luquillo Beach, a 20-some minute drive from the park. Once at the beach our driver/guide announced we had an hour and forty-five minutes to hang out at the beach, and left us there. Winnie and I spent the time in the water, laying out on the (warm) sand, and hiking along the surf line checking out the scenery. At the appointed time we returned to the van, waited for the rest of the group to arrive, and returned to our hotel.
We cleaned up, rested, and went back out for dinner. We found a lovely outdoor seating area to eat, then walked around and explored the night-time old town area. The cruise ship terminal was close by and we spent some time admiring the majestic ships tied up at the piers. Afterwards I spent a couple of hours up on the roof-top terrace drinking beer and again enjoying the night breezes and views of old town.
Homeless in Old Town San Juan
Friday morning we had breakfast at a wonderful quirky restaurant called "Carthage Express." The food was excellent and served by a scale model railroad train that ran on a track around a central seating area. Background music was Arabian Rai, and the decor was strongly Arabic. We ended up talking with the owner for a bit, who explained his model railroad system as a German-made "G" scale system. He was obviously, and justifiably, proud of his restaurant.
We had to check out of our room by noon, but our flight wasn't leaving until 3:00AM the next morning. So we went back to the hotel, packed up, and arranged for the front desk to hold our checked bag for the afternoon. Winnie and I went back to Boca de Cangrejos Beach and spent the afternoon swimming, laying out, and having a beach picnic. That afternoon we picked up our check bag at the hotel, had dinner, and dragged our luggage back to an ocean overview to once again enjoy the evening air. About 9:00 we caught a taxi to the airport, worked our way through the USDA/TSA security gauntlet, and found our gate.
Once again the weather Gods were smiling on us and there were no flight delays home. We landed right on schedule at 7:20AM Saturday morning to rainy 38 degree weather, about 12 hours after enjoying warm sand Caribbean beaches.
I decided that we really needed to make a Puerto Rican trip again. 
(Visited 230 times, 1 visits today)