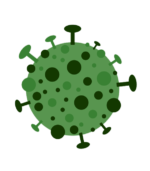 One of my favorite quotes is an alleged Chinese Curse that states "May you be born in interesting times." Given what's been happening this past week, I'd say we are in fact living in interesting times. These times are not particularly the times I'd have chosen to live in, all things being equal.
The most recent interesting thing is, of course, the medically-defined "Novel Coronavirus." Interesting to epidemiologists at least. Those folks are probably having the time of their lives studying this new and improved virus. The rest of us, not so much.
I'm trying to write this post in a semi-humorous style but I'm honestly having a hard time. In truth, there isn't much to laugh about right now. Our financial markets are giving every indication of another major recession. We're in the beginning stages of a serious pandemic. We have a buffoon as president of this country, with a crowd of sycophants and deranged corrupt money-grubbing parasites alternately leading him on and then using his vague twitter-bursts as authorization for national policy. This is a perfect trifecta: financial and medical crisis with no one in charge.
A Week of Interesting Events
America's Response
Americans responded to the week's events in true capitalistic fashion by buying up all available toilet paper and hand sanitizer. One asshole stockpiled 17,700 bottles of hand sanitizer so he could sell them on Amazon.com at jacked up prices. His path to instant wealth was foiled when Amazon shut down all sellers who were trying to profiteer from a pandemic. Now, this asshole has a garage full of hand sanitizer and doesn't know what to do with it all. Donating to people who need it doesn't even seem to be a consideration.
Given the total lack of coordinated media information from the person who should be controlling the message, misinformation is flying. Well-meaning people are passing bad information they believed was good. Worse are the people denying reality, who insist this is all a Liberal Plot To Make Trump Look Bad. As if trump really needs help looking bad. The net effect seems to be low-level mass panic, with local and state governments responding in different ways. Which again seems to add to the feeling of panic.
Ending Commentary
If these events were a movie script it'd be written as a black comedy, because no one would take it seriously. It's no secret that I despise trump, and that I'm having increasing levels of difficulty dealing with anyone who does continue to support him. But, if trump had actually risen to this occasion, listened to his experts, and taken quick, decisive action, I'd have applauded him. Even though I would have needed copious amounts of hand sanitizer afterwards.
I truly wish that the many experts who are predicting a medical disaster looming in our immediate future are wrong. Maybe we'll get lucky this time around and somehow avoid the predicted scenarios of overfull hospitals and people dying from lack of medical care. Maybe the financial markets will spontaneously correct themselves and we avoid an epic recession/depression. In the military we say "hope is not a plan." I think that applies here.
Regardless of how this all plays out, we are indeed living in interesting times.
Editor's Note: April 22 – Updated with new timeline format
(Visited 141 times, 1 visits today)