Estimated reading time: 12 minutes
On a daily basis, it feels like someone is trying to pick my pocket. The scams come in ever-increasing formats; from emails to text messages, phone calls, old-fashioned snail mail, and in-person. The one common denominator is that all these scams are focused on transferring my hard-earned cash to someone who feels they need my cash more than me.
The most recent attempted scam was this past week, when a person(s) replied to a Craigslist ad for an old guitar I'm trying to sell. The only notable part of this scam was that I exposed them. I'm going to expose these jerks even more in this post.
A Craigslist Scam
So this latest scam started innocently enough. I have an old guitar that once belonged to a friend of my mother. She passed it to me, and this guitar has since been sitting in our closet for the past nearly ten years. While doing some housecleaning a few weeks ago, I finally decided to sell it, on basis that I haven't played guitar since 1972 and was unlikely to ever play again. So, I placed an ad in Craigslist.
It's not like I'm trying to make a fortune off this guitar – I just want to get it to someone who'll play is and care for it the way a fine musical instrument should be played and cared for. My asking price is $200 which, based on my background research, is a fair price for this particular instrument in it's present condition.
In the Beginning
A few days later I received an email inquiry from a "M. Aryanna Moreno" through the Craigslist posting.
are you the original owner of it ? I'm thinking of taking it . actually, I never check cl mail. so, let me know ariannestarks321@gmail.com
So I responded to the direct email;
Hi,

No, I'm not original owner. The original owner was my mom's friend, a neighbor. He was original owner, and when he passed in the mid-1980s my mom received his guitar. My youngest brother, now a folk musician, played it for a few years but then moved on to more esoteric instruments.

I've had this for many years and would like this to go to someone who'll play it again.

Ron Charest
<phone number>
The Setup
All innocent enough so far, and I actually though this might be a real buyer. Then I received the email response.
From: Melinda White shanek898@gmail.com
Sept 14, 2021

Thanks for the prompt response to my email. I am so happy that the item is still available, I am very ready and serious about buying from you, Please let me know if a Cashier's Check/ Certified Check is okay, My pick up will be after you have your money cleared up. The check will be mailed out to you today via UPS Service and it will be delivered to you within 48hrs, I will make arrangements for the pick up as soon as the check clears. Hope I can trust you with the check payment? I will make arrangements for pick-up . So get back to me with the details below asap.

Name:
Address:
City:
State:
Zip Code:
Cell Number:
Last Asking price..

I will make arrangements for pick up as soon as you have your money, I will add an additional $60 for holding it for me Please consider it sold.

Thank you , hope to read back from you soon
Right away, my bullshit alarm started clanging. The name and email address was different than the email I sent to, and the "sending a Cashier Check/Money Order" via UPS was nearly a dead giveaway this was going to be a scam. A quick check using a reverse email lookup website revealed there were no owners or associated social media attached to either email.
This was all a pretty good clue these emails were "burner" accounts. But, I was interested in how this was going to go down, so I decided to play along. I innocently responded with my mailing info. I received "Melinda's" response two days later.
From: Melinda White shanek898@gmail.com
Sept 16, 2021

Good Morning Ronald Charest , How are you?, I am sorry for the late receive of the payment this was due to my daughter health (Asthma) We spent last few days at the hospital to make sure she is alright The payment is already mailed out to your address & it will be deliver to you this morning but there's a little add up on the check wish is not a Big Deal, I instructed my Financial to mail out your check and Mover payment separate but She stated that she didn't clearly understand my instruction, the payment has been sent Via UPS Tracking Number:A5642238036 and will delivered to you today or tomorrow hope i can also trust you with the mover funds? & you will keep to your words.

Please I really need your total understanding in order to make the pick up arrangement successful. Please I want you to go ahead as soon as you receive the check & have it deposited at your bank immediately , it should be cleared in less than 24hrs. I have some other 5 items needed in our New Home. So the rest of the money meant for the pick up of all the items which my mover is going to pick up for me around your location including yours.

I am Putting all my trust and faith in you, both of which are becoming less prominent these days, Please do not let down I am very sorry about the mistake and delay once again Pls Acknowledge my message soon as you get this message and I pray that God will also send you an Angel where you least expect; I believe we will be rewarded for the good we do for others; especially strangers. Please keep me posted; Many thanks

Thank you and God bless you, Hope to read back from you soon
Playing to The Scam
So now I knew this was an attempted scam. I've been targeted for this "send the mark a fake check and get him to send back real money" con before. Several times actually. But always in the past it involved people overseas. This seemed to be the first time all the players were domestic.
Sure enough, the next day I received a UPS "Legal Express Envelope" from an address in Romulus, Michigan.
Looking at Google maps, this address is a parking lot Kiosk.
Even better was the "Cashier's Check," made out from "Intact Title Agency of New Jersey, Inc." Made out for the amount of One Thousand Four Hundred Eighty and 00/100. Sent UPS from a kiosk in Michigan. Right.
Getting Better All The Time
So, I emailed "Melinda" letting her know I received her cashier's check, and was happy to be an honest person and do whatever she asked me to do.
Sep 17, 2021

Hi Melinda,

I received your cashier check yesterday. Why did you send $1400 for this guitar, when I was only asking $200? I also don't know how you intend to pick up the guitar when you are in Michigan.

Nevertheless, I deposited your cashiers check yesterday. So it should clear by today or tomorrow. Please advise what you want me to do with the additional funds, and how you will pick up the guitar.

Thanks,

Ron
My email response from "Melinda."
Melinda White shanek898@gmail.com
Sept 17, 2021

I deeply appreciate your honesty and trustworthiness through the course of this transaction, I reached out to the movers to see about scheduling the pickup for today or tomorrow and they are OK with that so please let me know which day is more convenient for you, I was also informed that their employee are not allowed to accept payment of any kind anymore due to recent events and security reasons; so I will need you to do me a favor by sending them the difference of the balance ahead through Money Order, Zelle or Cash App (those are the options they gave me) Please let me know which one is more convenient for you out of the Options. I will be waiting to read back from you ASAP
I also started getting text messages, from phone number 714-881-4558. Using a (still) free reverse lookup service https://www.usphonebook.com/, I determined this phone number is a wireless phone number owned by one Anil Kalidindi, currently living at 4200 Park Newport, APT 211; Newport Beach, CA 92660-6025.
It became pretty obvious the texts and emails were going to different people, as their responses didn't exactly coordinate they way they would if it was the same person. So, between texts and emails "Melinda" let me know she wanted me to send her $1,140, graciously allowing me to keep $360 for a guitar I was trying to sell for $200. I let her know I would use a money order, and needed an address to send it to. She replied with an email.
From: Melinda White shanek898@gmail.com
Sept 17, 2021

The manager Said You can purchase a Money Order and send it to the manager for information, You just need to go Any CVS,WALMART,or USPS store close to you to purchase the money order for $1,140. put all the money orders inside envelopes with all receipts and Send it to ( Name: Donald Payne , Mailing Address 8971 Kent Cir Semmes, AL 36575 ) ) Using OVERNIGHT Mailing Service Option only .Send it Via FedEx/UPS / UPS Using OVERNIGHT Mailing Service Option only for Tomorrow delivery and Also Choose No signature required, so that the manager or Driver can receive the mail from Fedex/ UPS service .Please kindly kindly try all your best and have everything done asap
This was just amazing information from a group of would-be con artists. This address crossed in Google Maps to a non-descript single-family house.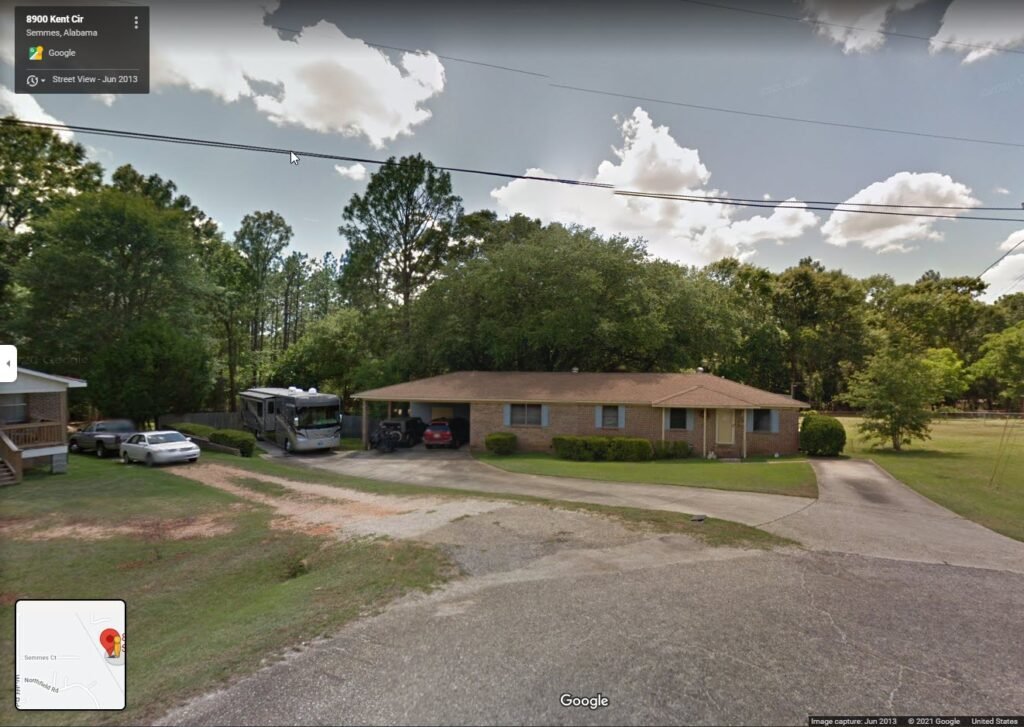 I also checked tax records for this address, and determined that in fact the property owners were Donald and Beverly Payne.
I decided to check just how smart these con artists were. So I responded via text message that I would send the money order via USPS, as I would be buying the money order there anyway. "Melinda" acknowledged she was ok with USPS ("Sounds Good"). I guess she figured that once they had the money, they could run and nothing I did would make much difference. Sadly, they probably figured correctly.
My Finale
I thereupon sent out an email to "Melinda."
I'm sure it does sound good, you piece of shit. You're the fourth asshole who's pulled this stunt on me. I've already verified your "cashiers check" is fake. Now you've given me a legit address in Alabama. I intend to publish that address, and this story, on my social media pages. With a bit of luck, it will go viral.
You piece of shit.

What pisses me off the most about this scam is that only honest people get burned. Fuckwad
Just to be sure this group of would-be con artists wouldn't be waiting around for my money order, I also sent a text.
Do you know, Anil Kalidindi, you folks aren't very smart. The last three times someone tried this scam on me, they were outside the United States. Makes it harder to deal with them. Since you and Donald / Beverly Payne are all inside the US, I'm sure Law Enforcement are going to be interested.

You folks are truly pieces of shit
And I did get a not-so-polite response! Her closing argument:
You're just a piece of shit. Go kill yourself
Not such a nice thing to say to one of your would-be marks. But, whatever. I'm hoping I gave Anil, Donald, Beverly, and who ever else is in on this scam (someone in Romulus, Michigan?) a little bit of heartburn.
In this type of scam only honest people get burned. It's only people who cooperate, trust that the cashiers check is real, and send out $1,140 of their own money who are going to get hit. For many people, this amount of money could be most of a rent check or mortgage payment. Dishonest people who decide they're going to keep the entire amount do not get scammed. I have a problem with a scam that only targets honest people.
Meanwhile, I would absolutely not encourage anyone to send text messages to Anil Kalidindi at phone number 714-881-4558. I also would absolutely not encourage anyone to send postcards to Donald and Beverly Payne at 8971 Kent Cir Semmes, AL 36575. It just wouldn't be right to harass a group of con artists who prey on honest people.
Related Posts
(Visited 76 times, 1 visits today)