Estimated reading time: 6 minutes
We've been doing small scale suburban gardening ever since we settled here in Northern Virginia. Winnie is a terrific gardener, and has been gradually building more expansive vegetable gardens each year. But this hasn't qualified us to call ourselves "suburban homesteaders."
Saturday, that changed when we expanded our suburban gardening into backyard chickens.
Chicken Stories
Winnie, having grown up in rural China, is no stranger to raising chickens. Chickens were a staple of every family in her home village. Their eggs were a welcomed source of protein along with occasional chicken soup when she was growing up. Her mother still raises chickens, along with ducks and an occasional pig.
My family started tending chickens when we moved to the Hudson Valley region of New York state back in 1972. My maternal grandfather moved in with us and started his retirement hobby farm by picking up some leghorn chickens at a farm auction. I left to join the Navy two years later, but I was home long enough to appreciate what free-range chickens and fresh eggs were all about.
Over the past couple of years I been reading about the trend towards "backyard chickens;" people keeping a small number of chickens for the eggs and sometimes meat. I've been interested, and this past winter Winnie and I started talking about keeping a few chickens. The more we talked, the more we got interested. So, a few months ago I started serious research into building a coop and where to locally source appropriate chicken breeds.
Meanwhile, Winnie was using her Chinese connections. She talked to some of her local Chinese friends about getting chickens, who in turn put her in touch with a family about one and a half hours drive from us. Winnie seems to prize "black chickens" the most, and this family had both newly-hatch chicks and grown hens available.
So, this past Saturday we took a drive into rural Virginia.
The Adventure Begins
Even though I've lived in Northern Virginia 15 years, I'd never been to this particular area. It was a beautiful drive out, and we arrived at the friend's farm right on time.
Winnie and I helped the wife pick blueberries while we chatted. The husband was in the house baking blueberry cobbler, but ducked outside every few minutes to chat while monitoring the oven. We also met their children, busy doing children-living-in-the-country stuff.
The family is an American-Chinese couple. The husband is retired Air Force and met his wife during an overseas assignment. He retired from active duty several years ago in Northern Virginia, and after a couple of years settling into civilian life bought 35 acres of farmland with two houses and a barn. Their stated goal is to raise all their own meat, and potentially sell some as part of the "farm to fork"Farm to ForkThe term describes a direct relationship between a farmer and a restaurant or chef, emphasizing local and sustainable food sources. philosophy of humane, organic, animal husbandry.
The couple lists the second house on their property on Airbnb, and do quite well keeping it rented to people wanting exposure to small-scale organic farming. On the day we visited, the family had two small flocks of goats, several pigs, a flock of chickens, a couple of ducks, and a small herd of beef cattle. The wife explained that their goal for raising meat animals was that the animals "should only have one bad day."
Picking Chickens
After a bit the wife took us over to their main coop, which they'd kept closed up that particular day. She explained keeping the chickens closed in made it easier for us to select the ones we wanted. Winnie, being the chicken expert between the two of us, made the selections. She's jump into the large coop, close the door, and I could hear the hens cackling. Then Winnie would open the door to hand us one of her selections. She ended up selecting three beautiful and obviously healthy silkieSilkie Chicken BreedThe Silkie (also known as the Silky or Chinese silk chicken) is a breed of chicken named for its atypically fluffy plumage, which is said to feel like silk and satin. The breed has several other unusual qualities, such as black skin and bones, blue earlobes, and five toes on each foot, whereas most chickens only have four. They are often exhibited in poultry shows, and appear in various colors. In addition to their distinctive physical characteristics, Silkies are well known for their calm, friendly temperament. It is among the most docile of poultry. Hens are also exceptionally broody, and care for young well. Though they are fair layers themselves, laying only about three eggs a week, they are commonly used to hatch eggs from other breeds and bird species due to their broody nature. hens.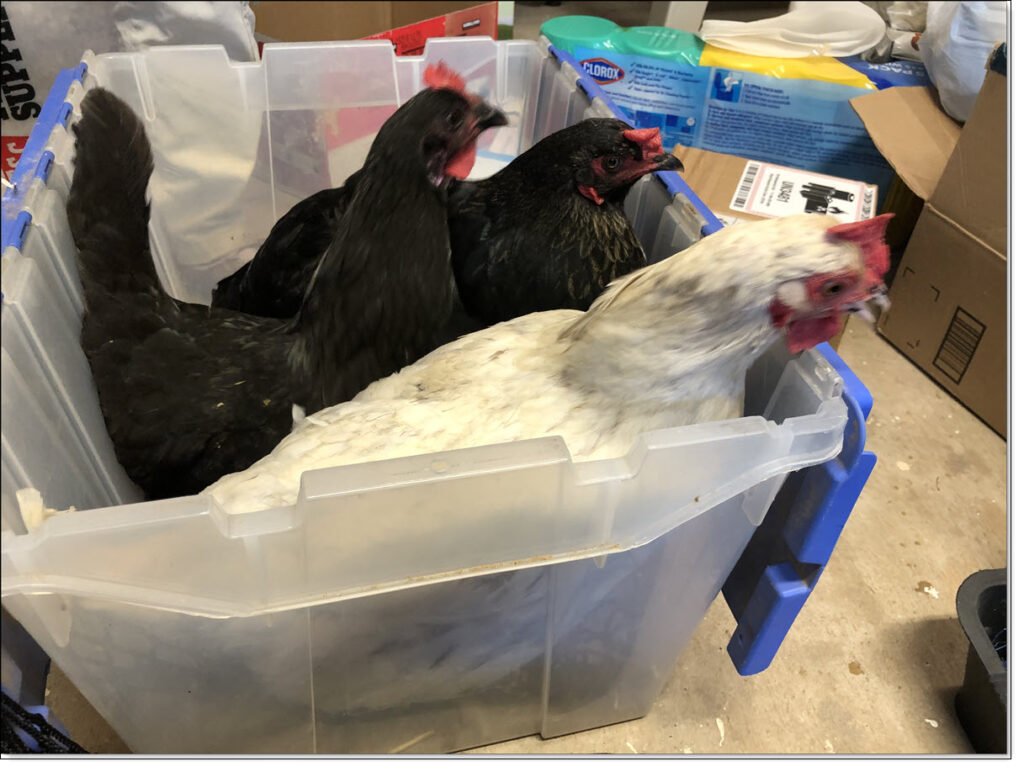 Winnie later told me she was checking the birds to be sure they were already laying.
We put the hens in a box we had brought and loaded them into the back of my Jeep. Winnie and the wife went up to the barn to look at chicks while I hung around the main house talking to the husband. Winnie came back a while later with a small box holding four two-day old chicks. The chicks hadn't been "sexed" as yet, so one or more is most likely a male. We only want four hens, no roosters, so several of these chicks are destined to become chicken dinners.
Winnie also bought four dozen eggs including four duck eggs. After sharing some green tea and more social talk, we loaded up the chicks and eggs and left. On our way home we made a detour to a "Tractor Supply" store for chicken feed and pine-wood bedding. Once safely home, we setup a large cardboard box for the three hens, and a smaller box for the chicks. Several hours later we already had three freshly laid eggs.
So begins our adventures in backyard chickens. The next step in our adventure is building a permanent coop for our small flock. More to follow…
Related Posts
(Visited 53 times, 1 visits today)