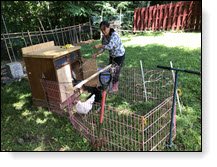 Estimated reading time: 6 minutes
Last week Winnie and I took a brave leap into suburban homesteading with backyard chickens. We acquired three hens that just started laying (according to the farmer we purchased them from), and four chicks. Ideally, at least a couple of the chicks are hens and will add to our egg-laying flock.
This experiment is already turning out well for our breakfasts. However, the side issue for our backyard chickens project is someplace to properly keep them. Building a quickie chicken coop involved some creative thinking on the fly.